Ready to grab some Kindle ebooks from your public library?
Fantastic!
Today you'll learn how to borrow Kindle books from your public library.
Here's how it works:
How to borrow Kindle Books from your public library for free
This is exactly the same system as we borrow physical books in the library.
The only difference is that with ebooks, you can return, borrow, or renew your loans from the comfort of your home.
Even returns are automatic means you don't have to worry about late fees!
Now that you know how it works, let's jump in and get started.
Get a Library Card
The first thing you need is a library card from the overdrive-supported library. (the website we're doing to use for borrowing books)
Open this link to figure out if your nearby libraries are available
Visit the library website or visit in person to get a card.
If your library is not on the list, fortunately, I have a workaround for that as well.
Recently a Reddit user shared a list of some libraries that supports non-residential cards in exchange for a small annual fee.
Go through it and see if any of these interest you. If not, You can ask for a favor from your friends or relatives who lives nearby a supported library card.
Checking out e-books through Libby
Now that you have a card, it's time for the Libby.
Libby is an Overdrive app that makes checking out and returning ebooks from your library a breeze. Besides the web version, It's also available on iOS and Android.
Open Libby on your browser or download it from your app store.
It'll ask you to sign in with your library account. Enter your library card number and PIN (If you don't have a PIN, ask your library).
Once you're logged in you'll be able to see all the available books in your library catalog
Click on any book you like and hit "Borrow" to start reading it or put a hold on books that are currently checked out by other readers.
Once you borrowed the book, it'll appear on your "Shelf" within the app.
How to borrow and deliver Kindle Books
Once, You're inside the shelf make sure you click on the Actions button (Available top-right corner)
Select Read Books With from the drop-down menu and then click on Kindle when the popup shows up.
Once, You're done go back to the shelf and hit the "Read with Kindle" button next to the book cover.
You'll be redirected to Amazon's website. If you're not logged in to your Amazon account, log in now. Click on the Get Library Book button.
The book will be delivered to your Kindle or Kindle reading app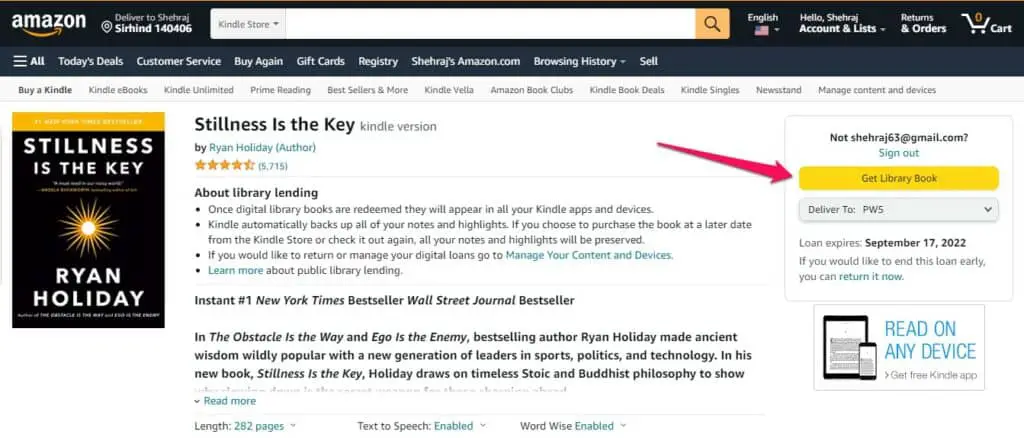 And that's it! You have successfully checked out a book from your library.
Returning e-books
Books will be automatically returned to the library at the end of their lending period.
You can also return them early by going to your Shelf, selecting the book, and hitting "Return Early" from the Manage Loan drop-down menu.
Notes
At last, I'd like to point out a few things:
The number of loans and holds varies from library to library.
Lending periods (Book Loan Period) for most books are two weeks, but some may be only one week or three weeks.
With Libby, You can also check out audiobooks from your library's catalog 
Meanwhile, Lookout to libraryextension.com, It's a free tool that allows you to check out library book availability when you're checking out them on amazon, GoodReads, or your local bookstore's website.
I hope you find this guide helpful. If you have any questions, please let me know in the comments below (I respond to all of them)
Happy reading!