There is a rule of thumb for reading manga: The bigger the screen, the better. Mangas are typically printed on large format paperbacks
As a result, a large screen gives the most immersive experience. In this post, I'll help you choose the best kindle variant for manga needs…
Best Kindle device to read manga
Regarding the kindle family, We've three contests
Editor's Pick
Kindle Paperwhite (11 Gen)
Storage: 8 GB
Auto-adjusting light: No
Charging Port: USB-C
Comes with Advertisement 
6.8" display with 300 PPI glare-free display
Higher Variant
Kindle Paperwhite Signature Edition
Storage: 32 GB
Auto-adjusting light: Yes
Charging Port: USB-C + Wireless Charging
Comes with Advertisement
Screen: 6.8" display with 300 PPI glare-free display
Premium Edition
Kindle Oasis (10th Gen)
Storage: 32 GB
Auto-adjusting light: Yes
Charging Port: Micro-Usb
Screen: 7" display with 300 PPI glare-free display
Ergonomic design with page turn button
I'll rank them based on screen size, resolution, processor, and other factors.
LET'S Start with Paperwhite
New Kindle Paperwhite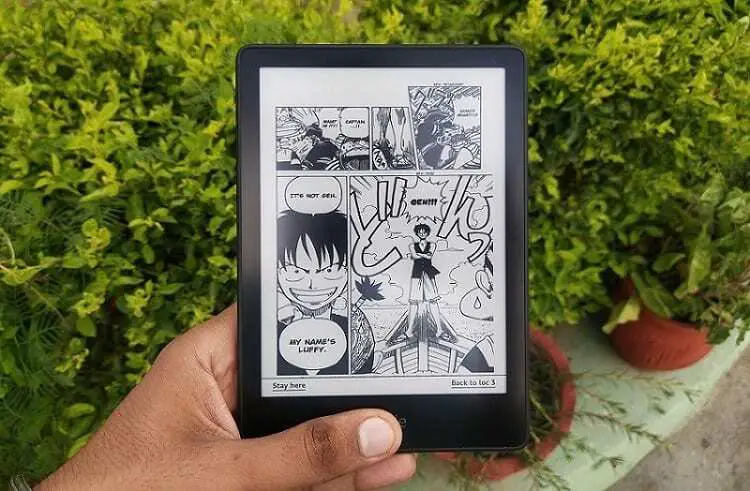 Kindle paperwhite was released in late 2021. The biggest selling point of this device is its high-resolution 300ppi display with a screen size of 6.8″ (inches) screen whereas other models are stuck at 6″ screens…
Personally, I use a new kindle paperwhite. I read several mangas on it (to name a few Boruto, One Piece, Naruto)
Paperwhite comes with two storage variants;
Kindle Paperwhite Standard
Kindle Paperwhite Signature Edition
Tbh, there isn't any significant difference between the two versions. So, I'd recommend you go with the standard version.
But…
If you want to keep a lot of manga (About 500 Volumes) on your e-reader, then you should opt for the Signature edition due to its 32 GB storage…
Or…
If you consistently change locations while reading (I do this a lot), then you should get the signature model due to its automatic light sensor feature.
You can check this for a detailed comparison between both variants.
The Pros
Large high-resolution screen perfect for reading manga
A fast processor makes for a snappy experience
Only Kindle USB-C Connectivity
The Cons
No page turn buttons
The screen is a little bit smaller than Oasis
Kindle Oasis – 2019 Release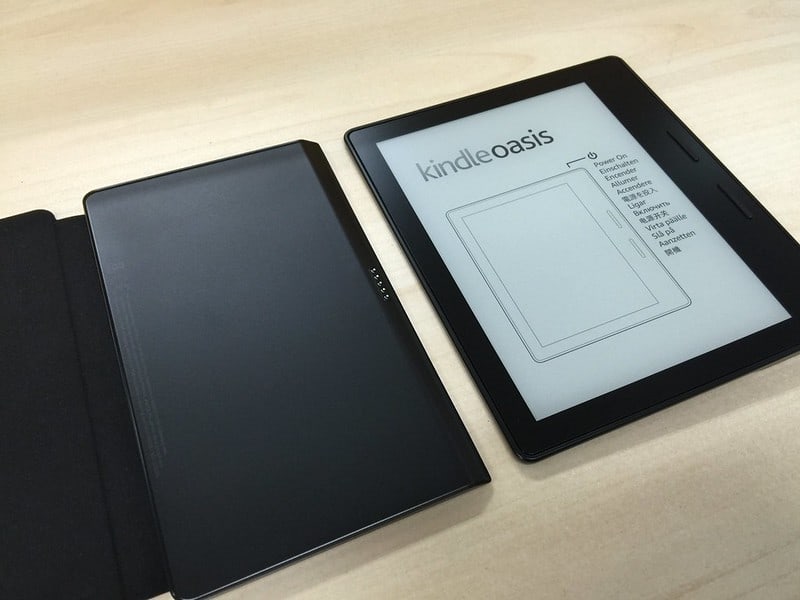 Kindle Oasis was launched way back in 2019. Unlike Signature Edition, this model doesn't come in two different varieties…
The Kindle Paperwhite has a 7-inch display with 300 PPI, making it the perfect size for reading manga (Advantage)
It comes up with page turn buttons that make it easier to switch pages while reading. Additionally, the large bezels make it easier to hold as compared to paperwhite.
The Pros
Huge 7-inch display with 300 PPI
Page turn buttons make it
Large Bezels
The Cons
Micro USB (slow charging as compared to Paperwhite)
It's a bit pricey + Old model
Our recommendation (Time to Make a decision)
If you're looking for the best Kindle device to read manga, then we recommend you go with New Kindle Paperwhite because of its large high-resolution screen and snappy processor.
However, if you want a device with page turn buttons, and a large screen then you should get the Kindle Oasis.
---
Recommend Post: 4 ways to get manga on your kindle device
We hope you found this post helpful. If you have any questions, please feel free to ask in the comments below.