This year Amazon released an update to their basic Kindle model. Here's a quick overview of everything you need to know about the new Kindle.
Supports USB-C instead of micro USB
A new color option: Denim
Double amount of storage: 16 GB
Brighter screen with 300 PPI display (previously 167 PPI)
The Dark mode enabled
Now, Let's dive into it.
Kindle Basic 2022 – Review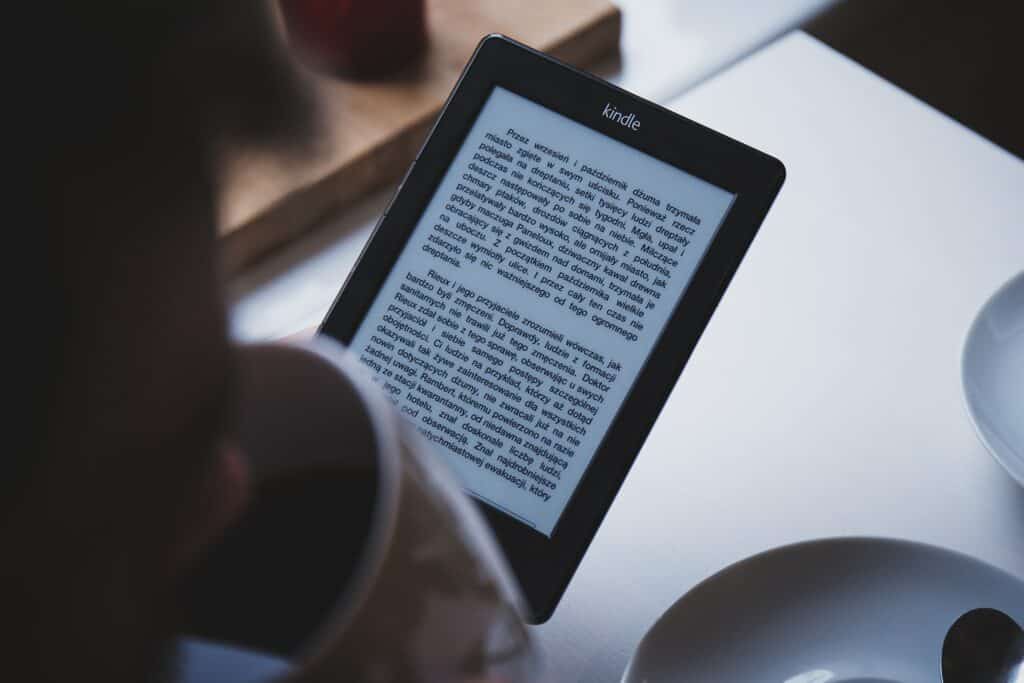 Supports USB-C
Everything is moving to USB-C these days, and the new Kindle is no exception. This is great news because it means you can use the same cable to charge your Kindle as you do your phone or tablet. No more need for a separate micro USB cable!
Additionally, USB-C cables are generally faster and more efficient than micro USB cables, so charging your Kindle will be quicker and easier than ever before.
New color option: Denim
This year Amazon discounted the White color and released a new Denim color for the new Kindle. The Denim looks great and gives the Kindle a fresh, modern look.
I can't see what other colors Amazon comes out with in the future!
Double amount of storage: 16 GB
I don't think this was necessary, but Amazon doubled the storage on the new Kindle from 8 GB to 16 GB. This means you can store twice as many books, which is great if you like to keep a lot of titles on your device.
In my opinion, 8 GB was already more than enough storage for most people. But if you like to keep a huge library of books on your Kindle, then the extra storage will be appreciated.
Brighter screen
Many people use to look for higher brightness on their Kindle screens, and Amazon listened! The new Kindle has a screen that is brighter than the old model. This makes reading in direct sunlight much easier and more enjoyable.
Dark mode
This is a small change, but a very welcome one. The new Kindle now has a dark mode option that you can enable in the settings. This makes reading in low light conditions much easier on the eyes, and it also conserves battery life.
Pricing
This year's Kindle is priced at $99, which is $10 higher than the previous model. I think this is a fair price, especially considering all of the new features and improvements that Amazon has made.
Kindle Basic vs Kindle Paperwhite
Comparing it with last year's Kindle Paperwhite release, the Paperwhite model is my recommendation.
But, how does it compare to the new Basic Kindle? Let's take a look.
Screen size
Kindle Paperwhite comes with a 6.7″ screen, while the new Basic Kindle has a 6″ screen. For me, an extra bit of screen is very noticeable and makes reading books much more enjoyable.
Especially for reading Manga.
Warm Light temperature Control
The Paperwhite model comes with a feature called "Warm Light" which allows you to adjust the color temperature of the screen. This is great for reading at night, as you can set the screen to a warmer color that is easier on the eyes.
The new Basic Kindle does not have this feature.
Waterproof
The Paperwhite is also waterproof, while the new Basic Kindle is not. This means you can take your Paperwhite to the beach or pool without worry, and you don't have to worry about damaging it if it gets wet.
Bright screen
Kindle Paperwhite has 17 LEDs whereas the new Basic Kindle has only 4, so the screen is brighter and more evenly lit. This makes reading in a variety of lighting conditions much easier.
Conclusion
The new Basic Kindle is a great device, and it's a big improvement over the previous model. However, I think Paperwhite is still the better option overall.
The Paperwhite has a larger and brighter screen, it's waterproof, and it has the Warm Light feature that makes me a little biased towards it.
The new Basic Kindle is a great budget option, but if you can afford the Paperwhite I think it's worth the extra cost.